WAGNER ACCOUNTING LIMITED - Professional Accounting Solutions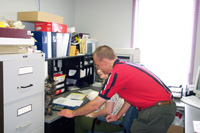 At WAGNER ACCOUNTING LIMITED we provide an accurate, timely and confidential approach to a wide variety of accounting, income tax and related solutions for businesses and individuals. Located in Bedford, Nova Scotia we serve clients throughout the Halifax Regional Municipality and the surrounding areas. Whether yours is a large company, requiring professional expertise for a short-term project, or a smaller company needing assistance setting-up your accounting system or keeping your records up to date, we can help.


We also provide income tax preparation and planning services for both corporations and individuals, including those with sole proprietorships or partnerships. Our tax preparation services include electronic filing of returns, as well as all other correspondence and filings required by Canada Revenue Agency (Revenue Canada).

As an added service we work with clients at their place of business or residence and offer evening and weekend appointments in order to meet their busy schedules. We make every effort to ensure that our clients are completely satisfied. This includes providing after-service support following all projects.

Along with our broad range of services, we have a network of professional colleagues in order to assist our clients with other needs.

Our firm is pleased to dedicate one third of our hours to charities, non-profit organizations and individuals having limited means.

Thank you for contacting us. We look forward to working with you.